This year has been a strange reading year for me. I have either been finding excellent books one right after another or ending up on the receiving end of a streak of one-star disappointments. Most of this can be accredited to stress and discomfort with processing through the constant flow of uncertainty that 2020 has been igniting and reigniting time and time again. The rest can be blamed on my rather finicky reading moods that seem to change with the quick shift of the wind.
If there is anything particularly positive about my reading habits for 2020 thus far, it would have to be how consistently I have been engaging with diverse own-voices books, as well as how wonderfully I have been staying loyal to my goal of reading more nonfiction titles this year.
Since the midway point has come and almost gone, I wanted to share my favourite books from the year with you. Each one of these has either brought me a great sense of joy or insight or was just a marvellous feat of creativity and I wanted to bring more attention and adoration their way. Normally, I like to do a humongous wrap-up of the best books across twelve months during the final week of December, however, this year I wanted to break them into two segments so that the lists are a bit less daunting and exhaustive. It also works as an experiment to see which way jams better with my overall comfort zone.
For each listed book, I have included the genre, links to their GoodReads pages via the title, and any relative reviews that I may have written for it. Please note that if there is a review, some of them may be on my sibling blog, BiblioNyan.
---
When You Ask Me Where I'm Going by Jasmin Kaur: An own-voices Canadian-Punjabi poetry collection with wonderful prose and poems that discuss the diasporic experience, battling sexism and racism within own cultural communities, being fetishized and sexualised by White people and how that impacts self-identity, and so much more. The collection really resonated with me as a brown-skinned South Asian who has (and continues to) deal with all these things to one degree or another in my life. The portions that hit the closest to my heart were the writings that explored what being Othered by one's own cultural community feels like because one does not fit the mould of how they perceive that individual should be as a South Asian gender-specific person. I highly recommend this to readers who enjoy poetry, specifically intersectional-focused work.
---
Difficult Women by Roxane Gay: This collection of short stories written by the superbly brilliant Roxane Gay is indescribably powerfully. Originally read in celebration of Black History Month, the anthology is filled with stories about womxn who take back their own narrative, oft times by partaking in difficult living situations in order to survive, while also knocking back their oppressors and abusers (both figuratively and literally) to stand tall and proud, with a sprinkle of various experiences in between the two extremes. It exemplifies the diversity of womxn, indicating that womxn's experiences do not equate to a monolithic gender identity. Recommended for readers of short stories and nonfiction intersectional feminist essays.
---
Come Tumbling Down by Seanan McGuire: An adult portal fantasy novel that is the fifth instalment in the Wayward Children series. It is by far my favourite volume thus far as it has incredible representation of Obsessive-Compulsive Disorder (OCD), which is a condition that I have. My personal experience with OCD pertains to the need to stay extremely clean and hygienic at all times. If I am unable to do so, then I quite literally feel like I shall lose my ability to function normally. An example of how I cope is how I wear gloves whenever I leave my house, similarly to the main character of this specific title. The novel portrays the difficulties of living with extreme OCD in an accurate manner without being hurtful or disrespectful, which I wholeheartedly respected and appreciated. For some, this level of OCD may appear to be unrealistic, however, as an individual who lives quite comparably to the character in the novel, I can assure you that it is very real and authentic. Additionally, the story deals with abusive relationships and how validating abusers is the only way to survive in some situations, which was also written with sincerity. I recommend this to readers of fantasy, especially portal fantasies, who appreciate accurate mental health/illness representations.
---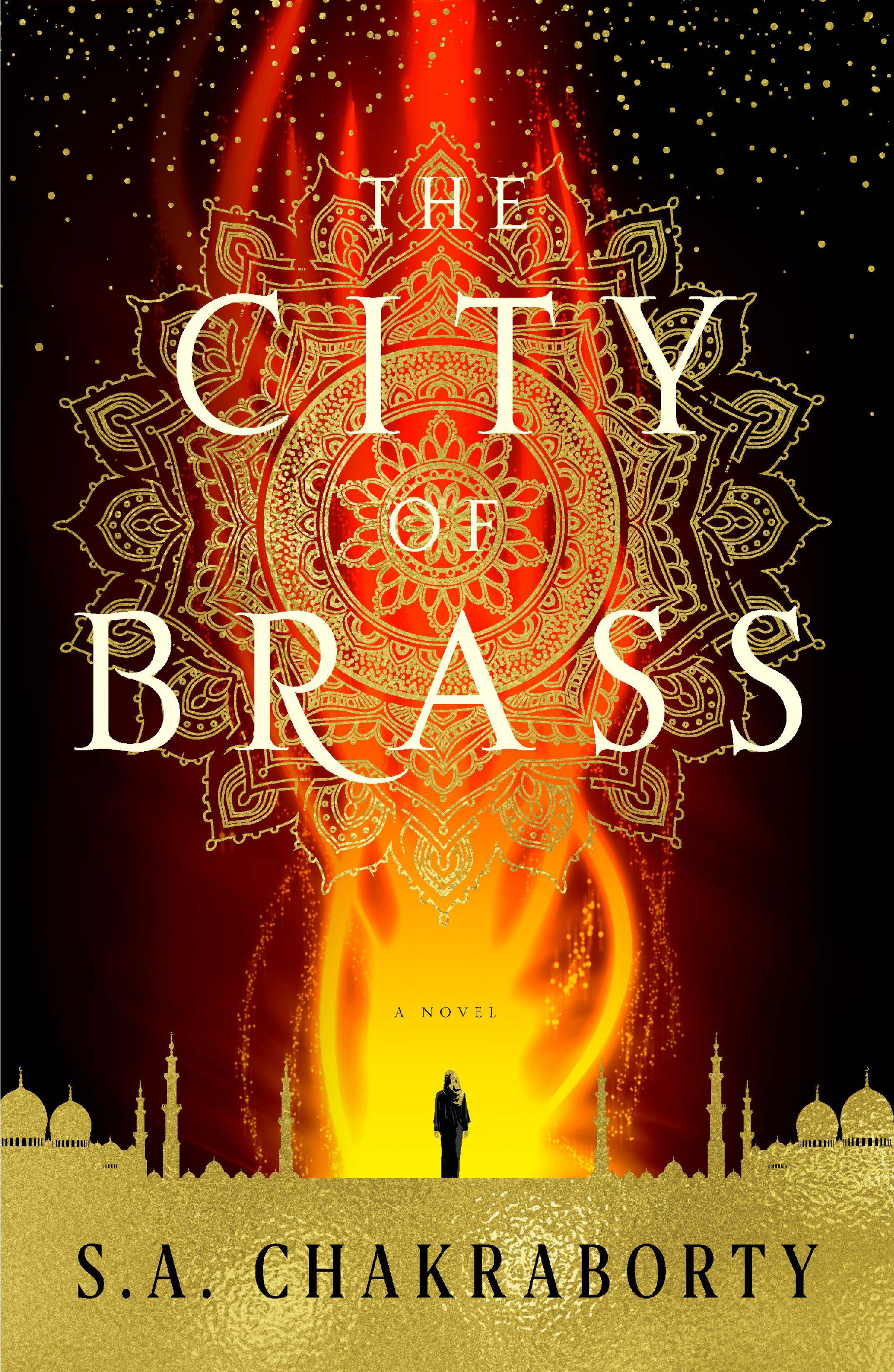 The City of Brass by S.A. Chakraborty: An own-voices Islamic epic fantasy book, and the first instalment in The Daevabad Trilogy, this title is an exceptional example of methodically crafted, cultural-rich, politically charged fantasy storytelling at its absolute finest. The depiction of morally grey characters and how vast the shades of faith can be, even within a particular creed, were remarkably written. The world-building and all-encompassing atmospheric exhibition of the setting of Daevabad is breathtaking in both scope and execution. One of the finest first instalments in a series that I have ever read. I highly recommend this to readers of adult fantasy who have a keen interest in political intrigue, amazing action, and multi-dimensional characters. My full spoiler-free review.
---
The Kingdom of Copper by S.A. Chakraborty: The sequel to the above title, this novel takes everything that The City of Brass did swellingly and contributes to the storyline and character plights by focusing on specialised character development and growth, tightening the suspense as it relates to the political machinations, and elaborating on complex themes of individuality, subjugation, abuse, and much more. By far the best sequel novel in a series that I have ever read. My full spoiler-free review.
---
Japanese Fashion Cultures: Dress & Gender in Contemporary Japan by Masafumi Monden: This is an own-voices Japanese nonfiction book that examines fashion trends in Japan as it specifically relates to mxn's fashion. Some of the topics of interest include, but are not limited to, fashion as a form of gender identity and surpassing the binary, the evolution of mxn's interest in fashion styles in Japan, and the projected future of the fashion industry as it relates to masculine identities. It is marvellously written, with in-depth research and a plenitude of information, as well as additional resources for further reading. The book manages to avoid being intensely dense, which was a welcome reprieve considering the subject matter. Highly recommended for readers who have an interest in multi-cultural fashion industries and surveys of gender identity in Japan.
---
Kawaii: Japan's Culture of Cute by Manami Okazaki and Geoff Johnson: Another own-voices Japanese nonfiction novel, this one is a brightly coloured, glossy-paged reference guide to Kawaii culture in Japan. The book offers in-depth yet accessibly succinct chunks of the origins of kawaii culture, its historical influences and evolution, a list of the major artistic creators and influencers of the concept of cute within Japanese society, and how it became a world-wide phenomenon. There are interviews with manga creators as well as specialists and historians within the field that make this book highly informative and vastly fascinating. The beautiful design and presentation along with the layman's vernacular make the title a must read for all Japanophiles, especially for ones interested in modern kawaii culture (i.e.: anime, Lolita fashion, maid cafés, etc.).
---
The Map of Salt and Stars by Zeyn Joukhadar: An own-voices Islamic, own-voices Syrian American story about a girl named Nour who moves back to Syria with her mum and sisters shortly after her father's passing. Before she has the time to fully acclimate to her new surroundings, her town is bombed, forcing her family to flee across numerous borders in order to fight for their very existence. It is magnificently compelling and emotionally riveting. The story is not an easy one to digest as it portrays the harsh reality of loss in multiple layers and dynamics, with the loss of home, loss of loved ones, loss of individuality, and even loss of faith, but that is also what makes it one of the most important books out there. My full spoiler-free review.
---
Kitchen by Banana Yoshimoto: An own-voices Japanese fiction novel that is considered to be a revolutionary work in modern Japanese literature, it follows a young woman who moves in with her grandmother's friend upon the grandmother's passing. Whilst living there, the young womxn harnesses the healing powers of cooking and friendship to grieve and find a way to move forward amid life's unpredictability. Even though the novel has its sad moments, it is ultimately a story of inspiration and hope, making it perfect for anyone that needs a little of both in their lives. Highly recommended for folx that like to read contemporary literary fiction or are interested in Japanese literature but are not quite sure where to begin.
---
Hurricane Child by Kacen Callender: An own-voices Caribbean, own-voices Queer story for middle-grade readers about a young girl that is faced with feelings of abandonment, and the people who lie to protect her. Callender's prose and exploration of complex feelings with regard to the uncertainty that follows the loss of a parent, even at such a young age, is powerfully insightful and stunningly evocative. It showcases how children are not the only ones that have to grow up and oft times it is because of their sincere perspective on life that so many adults finally figure it out for themselves. Recommended to readers that like middle-grade books, books with Queer romances, and books that explore the more hurtful aspects and complexities of cultural-specific communities. A full review for this title shall be on the blog shortly.
---
Marriage of a Thousand Lies by SJ Sindu: An own-voices Sri Lankan and Tamil, own-voices Queer adult literature novel about a womxn named Lucky. She is a lesbian that married her gay friend from college so they could maintain their personal Queer dating excursions safely hidden from the judgemental gazes of their conservative Tamil parents. However, when Lucky is invited home to attend her childhood friend's wedding, emotions start to run high as she questions what she wants from her life and future. This was such an excellent novel with raw, unfiltered emotion about being in an abusive relationship with a closeted individual, and how the fears and insecurities of such a person can create an extremely toxic relationship. It also examines the challenges of coming to terms with one's identity amid strict, traditional familial environments and oppressively rigid gender-enforced rituals. It is not an easy book to read, but it is phenomenal, nonetheless. Highly recommended for readers searching for an authentic Queer literary novel centring on Sri Lankan experiences and representation. A full review for this title shall be up on the blog shortly.
---
This Book is Anti-Racist by Tiffany Jewell: This own-voices Black nonfiction book takes a look at systemic racism and oppression of BIPOC and POC through the pages of history so that we may understand what those two constructs entail, which better equips us to break them down. My favourite part of this collection is how it tackles each element with grace, centring on positive discourse. There are also activities at the end of each main section so that we can truly examine White supremacy and privilege around us in our daily interactions and environments, which further emphasises prejudice and discrimination against all BIPOC and POC individuals. I recommend this to folx interested in learning about and understanding the roots of systemic racism and those who truly wish to unravel the very pillars that maintain the status quo of oppression of marginalised peoples.
---
Love from A to Z by S.K. Ali: This own-voices Islamic young adult contemporary romance book is the best book I have read in all of 2020 so far. It follows two teenagers who meet by happenstance and formulate a friendship during some of the most difficult tribulations of their life thus far. It is an immensely beautiful book about the joys of faith and the comforts of learning to be oneself, unapologetically so. It is feminist, romantic, fierce, and so wonderfully full of wisdom. Highly recommended to readers that enjoy sincere, wholesome romances, intersectional feminism, and young adult narratives. A full review for this book shall be up shortly.
---
That does it for my bi-annual round-up of the best reading experiences that I have had in 2020. I am eager and excited for what the next six months shall bring my way. Until next time, happy reading to you!