"The men watched with fascination as she opened a book and bowed her head in it. It looked like she was avoiding the crowd, and she appeared to want to blend in. It was impossible though since she'd already caught the attention of her audience by simply standing out in her red dress."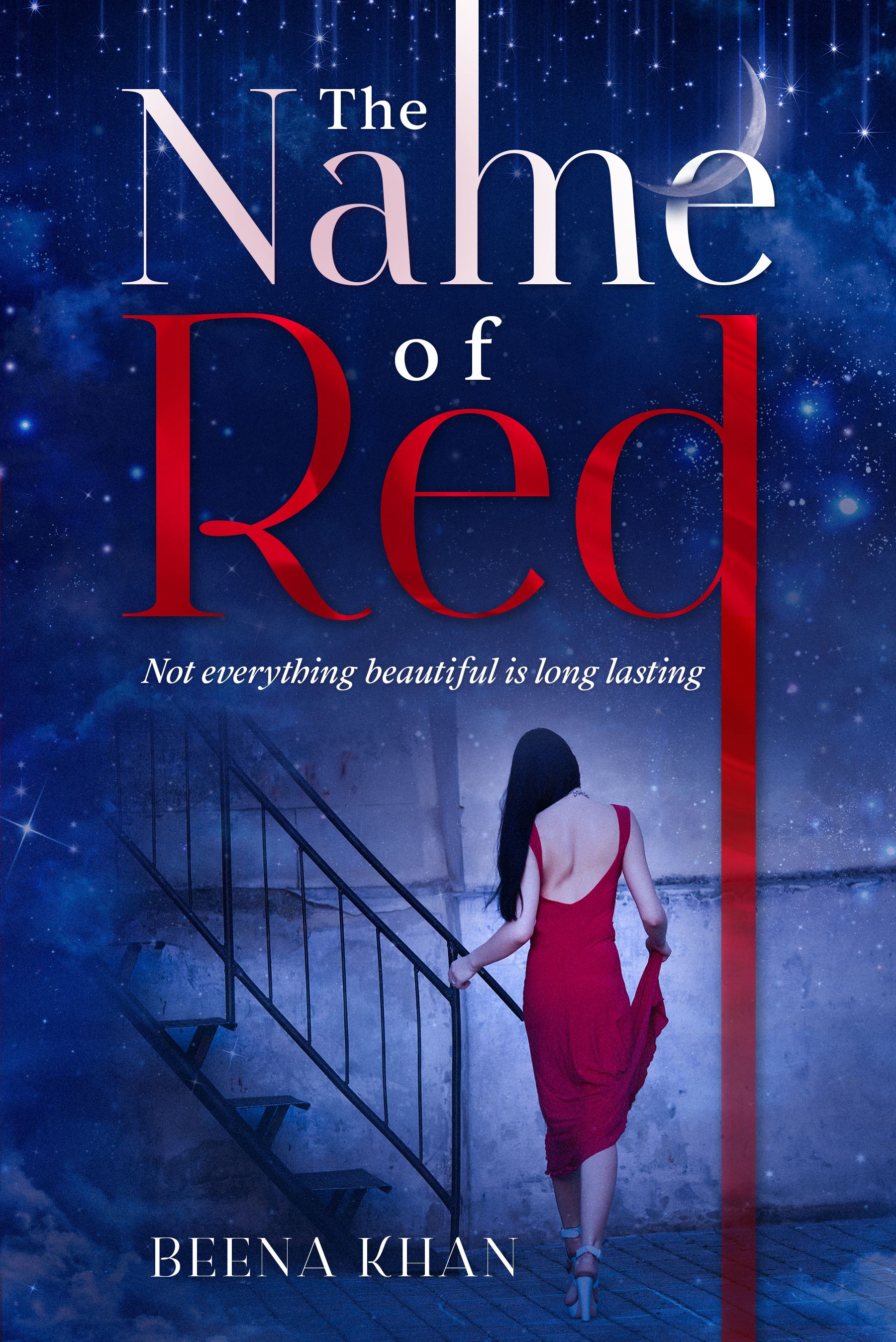 The Name of Red by Beena Khan is an #OwnVoices South Asian contemporary romance about a woman known only as Red who frequents a local bar every evening where she drinks vodka and reads books. One evening an admirer begins leaving specific titles for her upon her favoured reading spot with notes tucked into the pages. Feeling intrigued by the gesture, she reciprocates the gift-giving with responses to said notes, thus starting a curious friendship. The novel is a debut release.
There were many attributes to The Name of Red that kept me steadfastly invested in the story between Red and her mystery admirer, such as the incredible descriptive writing and the slow-burn interaction between the two individuals, however the novel's downfall was how unpolished and repetitive the prose became.
The strongest trait of the novel is the captivating way that the author is able to create atmosphere. It was marvellously easy to picture Red getting situated at the bar and trying to focus on her book, but then becoming wholly uncomfortable when men would gawk at her inappropriately. Another scene was when she receives her first book from the admirer and the caution that she felt along with a twist of curiosity and excitement was delightful and charming. These fantastic descriptives extend to character interactions and dialogue sequences, where details of facial expressions and emotional reactions were shared, providing the reader with a superb recognition of how everyone was reacting to one another. This tends to be a characteristic that is quite commonly overlooked in contemporaries during verbal exchanges and its presence here was immensely appreciated. Additionally, it further cements the heat of the slow-burn development of feelings between Red and her eventual love-interest, Kabir.
The second facet that makes The Name of Red so fiercely engaging is the aforementioned romance. The rapport is built on two individuals who get to know each other gradually through shared (and separate) interests and a natural inquisitiveness about one another's past encounters and relationships. It helps create a foundation of trust and mutual respect that is splendidly genuine and empathetic. The establishment of familiarity when building a romantic relationship or even a platonic kinship is a great portrayal of how healthy bonds are forged and something that is vastly needed more of in adult romances.
The only true downfall of The Name of Red is the unpolished nature of the overall writing style. In the first half of the book, there are tons of repetitive words and phrases that make it feel tedious and overtly accentuated, mainly when describing Red's beauty and the impact that it has on people around her. Rather than being allowed to gauge the reactions and formulate an opinion independently, it occasionally felt like the reader was supposed to respond with or think specific things, and that can become highly grating as one gets backed into a very precise corner. This is further reinforced if one is doing a single reading session for the book.
In later chapters, the quality of the writing takes a significant downturn as well. Rather than the carefully crafted sentences that is found in the first one-third of the narrative, the prose becomes riddled with many grammatical errors and inconsistent sentence structures that detracts from a smooth reading experience. I found myself stopping every so often to re-visit certain passages and paragraphs so that I could understand them fully, which further exasperated the repetitive element of the novel, but in a completely different manner. Suffice to say that the book needed a serious hand at editing as it reads like a second draft rather than a final product.
Writing titbits aside, there was one narrative element I also did not particularly care for and that was the amount of trauma that is introduced later on. Much of the trauma felt like contrived plot devices for shock value and it places a great amount of distance between the reader and the initial investment that hooks one into the plot and character plights. The suspension of disbelief utterly evaporates in the last one-third to one-fourth of the narrative, which then impacts the storytelling quality as a whole. However, I do feel the need to admit that I am not typically a reader of romance, so regulars of the genre may find these elements far more palatable than I did.
Overall, The Name of Red was a great debut. The author has immense potential to be a superb contributor to the genre. Having such a skill for crafting immersive settings and characters that are easy to root for, I am positive that she shall only get better with each new book she releases. I look forward to seeing what her next story shall entail. I recommend The Name of Red for people who fancy diverse slow-burn romances.